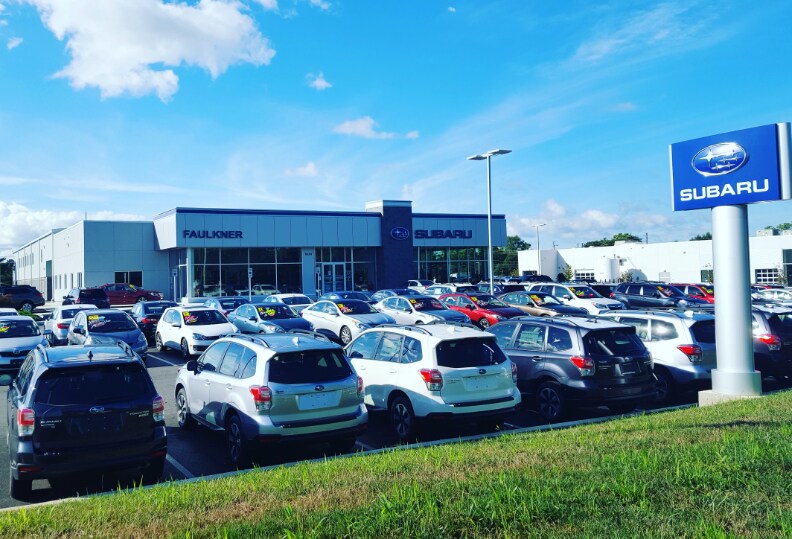 The Faulkner Family of Dealerships has proudly served the automotive needs of consumers for over 80 years. Here at Faulkner Subaru of Mechanicsburg our fun, friendly, and fully certified sales team is ready to assist you to find the right car at the right price!
Whether you are in the market for a new or pre-owned vehicle, Faulkner Subaru of Mechanicsburg has the perfect car for you! We are the premier Subaru dealership in central Pennsylvania offering a huge inventory which includes the Subaru Legacy, Outback, Forester, Impreza, and Crosstrek. If you are looking for the "rally-winning" Subaru WRX, STi or "track-ready" BRZ, we have one for you! We also feature an impressive selection of used and Certified Pre-Owned vehicles.
Faulkner Subaru of Mechanicsburg also takes great pride in being an active member of our community! We have built several longterm community partnerships which include; Silver Spring Township Police Department, Amelia S. Givin Library, Letort Regional Authority Nature Trail, Leukemia and Lymphoma Society of Central Pennsylvania, Sam's Spoons Foundation, and Perry County Animal Rescue just to name a few!
In 2015 we were honored to receive three significant awards. First, Automotive News named Faulkner Subaru of Mechanicsburg the #4 "Best Dealership to Work For" in North America and we are thrilled to be nominated again for 2016! We were also awarded #4 on the list of "Best Places to Work in PA" by the Central Penn Business Journal. Finally, we were recognized as a Certified Subaru Eco-Friendly dealership. While these awards are significant, it is the focus on our employees, customer satisfaction and concern for our environment that remain our top priorities!
Stop by today and visit our Eco-Friendly Dealership conveniently located at 6629 Carlisle Pike in Mechanicsburg, PA.