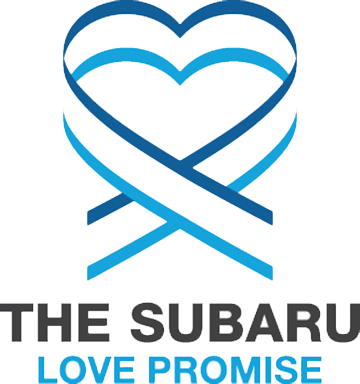 What is the Subaru Love Promise?
Subaru and our retailers believe in making the world a better place and the Subaru Love Promise is our vision of respecting all people. This is our commitment to show love and respect to our customers and to work to make a positive impact in the world.
How is Faulkner Subaru Mechanicsburg dedicated locally to the Love Promise?
Our Love Promise can be seen in various partnerships with local charities and non-profits. We're grateful for the opportunity, not only to be a part of our community, but to serve it as well.
West Shore YMCA, Diakon Youth Services
Harrisburg 5K, Luekemia and Lymphona Society
Love Promise Stories from Faulkner Subaru Mechanicsburg
Subaru and Faulkner Subaru Mechanicsburg believe in making a positive impact on the communities in which we live and work. We uphold that belief through our Love Promise Community Commitment. Every month, we select inspiring stories from customers and partners from around our area who strive to support our collective commitment and feature them here
Gold Sponsor of the 2021 CROP Walk - Ulli K
Dear Matt, Shane and Caring Friends at Faulkner Subaru! On behalf of the Executive Committee of the Mechanicsburg/West Shore CROP Walk, but even more importantly on behalf of the vulnerable neighbors near and far who will be blessed through the amazing work of New Hope Ministries, Mechanicsburg Area Meals on Wheels and Church World Service, I want to thank Faulkner Subaru Mechanicsburg for being a GOLD SPONSOR of the 2021 Mechanicsburg/West Shore CROP Walk! I am truly grateful for your expression of concern for those who struggle to secure such basic needs as adequate food, water and shelter. With sincere thanks, Ulli Klemm, Coordinator, Mechanicsburg/West Shore CROP Walk
---
CV Cheerleading - Kathleen H
The support from Faulkner Subaru of Mechanicsburg was so uplifting for our girls as they headed to Florida in April for HS Nationals! What a crazy year it was with COVID and so many changes to our practice and competition schedule. We were beyond thrilled to be able to attend the live event in Florida and even more excited to return to Mechanicsburg as the 2021 HS National Champions in D1 Large Varsity! Our girls looked great in the tank tops that were generously donated by Faulkner Subaru of Mechanicsburg! We send many thanks for your sponsorship of our program and support of our cheerleaders! Kathleen Harker Treasurer, Cumberland Valley Cheerleading Boosters
---
Chambersburg Food Pantry - Deb C
Ms. Deb and friends have transformed a small trailer into a food pantry for Chambersburg residents in need. They all run on donations and volunteer help. Faulkner Subaru Mechanicsburg had donated 3 Subaru Ascents full of non-perishable items. Faulkner Subaru staff, customers and Trinity High School did an amazing job for the month of April in collecting donations, together we can accomplish anything.
---
Trinity Food Drive - Trinity H
Thank you to all that contributed non-perishable items to the Chambersburg Food Bank in cooperation with Faulkner Subaru Mechanicsburg. Trinity is a true asset to the community and help us achieving our goals of helping the community.
---
Summer Program for Youth (SPY) - Jeanna S
Thirty-six years ago, Summer Program for Youth (SPY) was created to help at-risk children in our area grow academically, socially and emotionally over the summer. For eight weeks in June, July and August, families with elementary-aged children in Carlisle Schools have come to rely on SPY to provide their kids with a safe, nurturing environment, sustained nutrition and educational and memorable experiences that other children take for granted. A SPY camper is a student who is struggling academically and would benefit from a stable, nurturing environment and social/emotional learning. Students are referred to SPY by their school counselor and over ninety percent come from low income homes. SPY is offered free of charge so that all children who would benefit from our quality programming are able to attend. Caring and compassionate community members and organizations, like Faulkner Subaru, make SPY possible. Funding from the United Way of Carlisle and Cumberland County covers nearly one third of our operating expenses but beyond this we rely on donations and sponsorships to carry out our mission. Our community needs a program like SPY more than ever this summer. A year of virtual learning has negatively impacted many of our children but particularly those living in adverse home situations with limited access to resources and support. The number of children who would benefit from SPY is growing. Faulkner Subaru's partnership is giving SPY the ability to increase enrollment from 75 to nearly 150 students this summer. This is a substantial growth and will make an impactful difference in our community! On behalf of the Board and Staff of Summer Program for Youth (SPY), I would like to express gratitude to Faulkner Subaru for embracing SPY's mission and offering your support. Your dedication to making a difference will brighten the future for many children who will forever be grateful! With Sincere Thanks! Jeanna SomSPY Executive Director
---
Trinity Field Sign - Larry K
Last night we hosted the April 2021 Faulkner Subaru of Mechanicsburg boys lacrosse event. We hosted Palmyra High School and were fortunate enough to have victorious by a 9-1 score. Attached is the stadium scoreboard electronic billboard that was turned on right as the match began. As you can see, the very first business on the electronic billboard is Faulkner Subaru. I thought you would like to see this. Additionally, we took a picture of the Faulkner Subaru banner that is permanently located along the fence around the field. I will forward that picture to you under a separate email message. Lastly, last night's game was live streamed for those fans who could not attend in person. The Faulkner Subaru advertisement was shared multiple times during the evening. The stadium PA announcer also read the Faulkner Subaru advertisement throughout the night. In closing, we truly appreciate the Faulkner Subaru support of Trinity athletics. We look forward to receiving the April stipend from Faulkner Subaru. I have been working very closely with our Athletic Director in earmarking this month's funds to help pay for needed football helmets and soccer equipment for the upcoming fall season. Without your support, we would be hard pressed to purchase these items four student athletes. Thanks again, Shane & Larry
---
Dillsburg Youth Baseball - Brad B
April 12, 2021 Dear Mr. Smith, Thank you for the opportunity to work with Faulkner Subaru Mechanicsburg in sponsoring our Little League Score Board at our Ryder Field location in Dillsburg. With your generous sponsorship of $4995, this will allow our organization to provide Little League baseball to the youth of our community that is affordable, and also have fields and equipment for those athletes to learn the game of baseball with. Dillsburg Youth Baseball is a charter of Little League International, and we provide the opportunity to learn and play the game of baseball. Boys and girls from the age of 4 years in tee ball to the age of 12 in our Majors Division, work on learning skills and strategies to better themselves both on and off the field. DYB also offers a Challengers Division for athletes with physical and/or mental disabilities. Lastly, DYB also has a Junior and Senior Teener Divisions that offers baseball to athletes after they have aged out of the Little League age. These Divisions have athletes enrolled up to the age of 18. As you can see, your sponsorship will greatly affect many lives in the years to come at Dillsburg Youth Baseball. Thank you for your support and we hope to see you all out at a game soon! Play Ball! Brad Beck President Dillsburg Youth Baseball
---
2021 Easter Ham Donation - Marietta U
It was so nice meeting the Subaru team this morning. Subaru as a company has been so generous to us during the pandemic and I'm so happy that a local team wanted to do even more to help us out. It was very generous of the staff to donate all of the hams. Multiple local families will be benefitting this holiday weekend from your generosity. I attached a donation sheet that converts the total pounds donated into meals. I also included a link to our website that focuses on what we do at the food bank along with how many we people serve. Our service territory is the 27 counties in the middle of the state. Please let me know if you need any additional information. https://www.centralpafoodbank.org/who-we-are/ Thank you again and have a wonderful Easter if you celebrate 😊
---
Central Pennsylvania Animal Alliance - Zella S
Dear Friends at Subaru, The Central Pennsylvania Animal Alliance (CPAA) has been fortunate to partner with Faulkner Subaru, Mechanicsburg to raise awareness, supplies, and funds for CPAA's life-saving Hounds of Prison Education (HOPE) training and rehabilitation program for rescued and shelter dogs. HOPE pairs rescued and shelter dogs with carefully-selected inmates at the State Correctional Institution at Camp Hill for training and rehabilitation, with the assistance of professional trainers and HOPE volunteers. Some of the dogs that participate in HOPE need basic obedience training, while others have fears and challenges they need help to overcome as a result of the abuse and neglect they have suffered at the hands of humans. HOPE is the perfect program to make that happen. The dogs live with their inmate handlers 24 hours a day, seven days a week, and the inmates are responsible for the total care and training of the dogs. When the dogs' training is complete, they are adopted into forever homes. Each HOPE graduate comes with free training support for life with one of CPAA's professional trainers. HOPE is a win for the dogs, who otherwise would not have had a chance at life, and a win for the inmates too. At CPAA's Compassion with Fashion event last year, the guest speakers were two former participants in HOPE, who told how the dogs that they trained over the years rescued and redeemed them. We outwardly see the amazing impact of HOPE on man's best friend, but it was especially poignant to hear the heartfelt stories from the men who trained the dogs. HOPE provides rescue, redemption, love, and hope to man…and man's best friend! The work of CPAA is accomplished through the generosity of businesses like Faulkner Subaru, Mechanicsburg. For that, we are more grateful than we can easily say. With heartfelt thanks and great appreciation, Zella Smith Anderson, Esq. Founder & Executive Director
---
Trinity High School - Rachel M
First and foremost, a huge thanks to Faulkner Subaru Mechanicsburg for your continued support of Trinity High School! We are honored to partner with you all and more than willing to provide our support in helping Faulkner in their efforts of securing the Love Promise Community Commitment Award. All the best and we will be cheering Faulkner on! Rachel
---