The 2022 Subaru Love Promise Customer and Community Commitment Award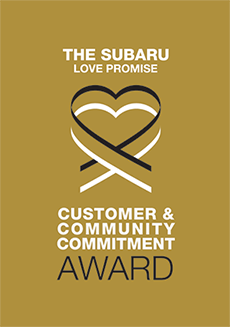 We've been nationally recognized for our dedication to our customers, our community, and the Subaru Love Promise.
We're honored to receive the 2022 Subaru Love Promise Customer and Community Commitment Award. This award nationally recognizes elite Subaru retailers who provide an exceptional customer experience at every interaction with Subaru. These retailers have also demonstrated an outstanding commitment to supporting passions and causes in their local communities in important areas such as the environment, community, health, education, and pets.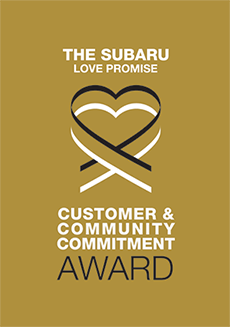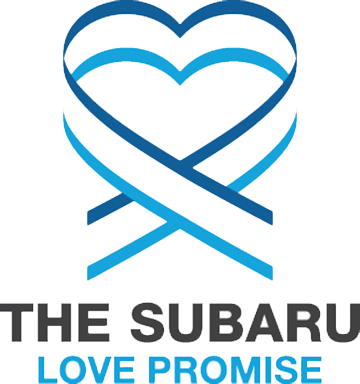 What is the Subaru Love Promise?
Subaru and our retailers believe in making the world a better place and the Subaru Love Promise is our vision of respecting all people. This is our commitment to show love and respect to our customers and to work to make a positive impact in the world.
How is Faulkner Subaru Mechanicsburg dedicated locally to the Love Promise?
Our Love Promise can be seen in various partnerships with local charities and non-profits. We're grateful for the opportunity, not only to be a part of our community, but to serve it as well.
West Shore YMCA, Diakon Youth Services
Harrisburg 5K, Luekemia and Lymphona Society
Love Promise Stories from Faulkner Subaru Mechanicsburg
Subaru and Faulkner Subaru Mechanicsburg believe in making a positive impact on the communities in which we live and work. We uphold that belief through our Love Promise Community Commitment. Every month, we select inspiring stories from customers and partners from around our area who strive to support our collective commitment and feature them here
Adopt a Classroom - Northside Elementary S
The team at Faulkner Subaru of Mechanicsburg generously donated $5000 to Northside Elementary School. With their donation they adopted 10 classrooms, and supported roughly 250 students and teachers. They also ran a supply drive the whole month of August, where they donated anything from book bags, pencils, pens, crayons, notepads, rules, erasers, folders, disinfectant wipes, etc. Thank you to Faulkner Subaru of Mechanicsburg for your support and generosity. Your donation has come at the perfect time. We are at the end of our building renovations, and your donations will help us be able to fund other parts of the school where we didn't have funds for. Thanks you, Staff and Students of Northside Elementary School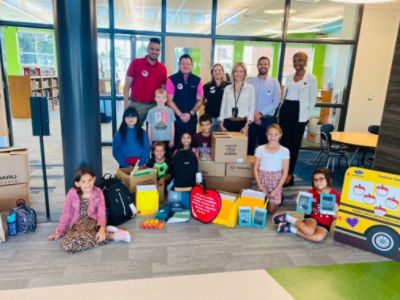 ---
Local Oncologist Joins Faulkner Subaru Mechanicsburg for a Special Delivery - Amber W
Thank you to Delivery Specialist, Kristie Knode, and Salesman, Amr Gad, from Faulkner Subaru Mechanicsburg for joining The Leukemia & Lymphoma Society (LLS) at Penn State Health Medical Group - Andrews Patel Hematology/Oncology in Camp Hill, PA on July 13th to provide much-needed support and warmth to local patients and their families.  Faulkner Subaru Mechanicsburg and LLS provided blankets to patients undergoing cancer treatment at the medical facility. Together we are reaching and supporting even more patients, families and caregivers in their time of need.  A special thank you to Dr. Mary A. Simmonds, who took time out of her busy schedule caring for patients, to help with the special delivery. Dr. Simmonds, a former local LLS Chapter Board of Trustees Member, looks forward to being able to share the blankets with her patients.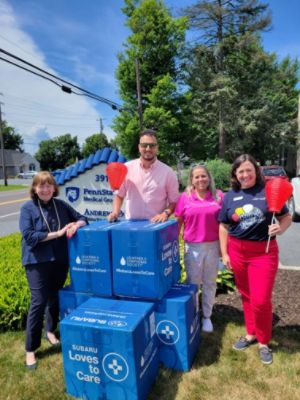 ---
Running for Rachel 2022 - Erin S
Running for Rachel began in an effort to support Rachel Lynn Guss, a 2005 graduate of Central Dauphin High School, as she battled duodenal cancer. Since her passing in November 2011, our mission has been to raise awareness and funds for gastrointestinal and duodenal cancer research at the National Institutes of Health (NIH). In the 11 years since our inception, we have raised more than $500,000 for the NIH Cancer Research Center. Our ability to donate race proceeds to the NIH Cancer Research Center is due, in large part, to the support of Faulkner Subaru Mechanicsburg who was a Premier Sponsor in 2021 and 2022. Supporting our organization and race at the highest level, Faulkner Subaru Mechanicsburg has played a crucial role in the success of our organization, resulting in research that led to the discovery and development of a novel form of cancer therapy.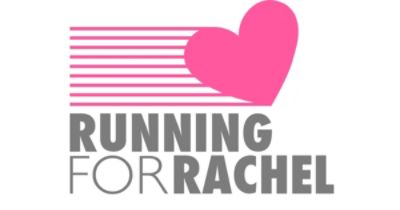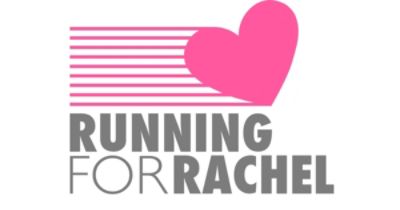 ---
Polar Bear Foundation - Matt L
To the entire team at Faulkner Subaru at Mechanicsburg, The Polar Bear Foundation is dedicated to building a stronger Northern community by encouraging broad-based support for the investment in creative, innovative, and exceptional opportunities for the Northern York County School District. We are parents, alumni, current teachers, retired teachers, students, school administrators and community members. We are committed to strengthening and supporting the entire Northern York County School District community. When we set off with the bold plan of building a turf field at the Northern School District, we knew it would only succeed through the generosity of our supporters. We are so thankful that Faulkner Subaru of Mechanicsburg answered the call and has allowed us to be part of their Share The Love event. Thanks to Faulkner Subaru, generations of student athletes at Northern will now have the opportunity to grow and develop in their sport at a facility that our community can be proud of. On behalf of the Polar Bear Foundation, thank you for partnering with us. Together We Make Good Things Happen!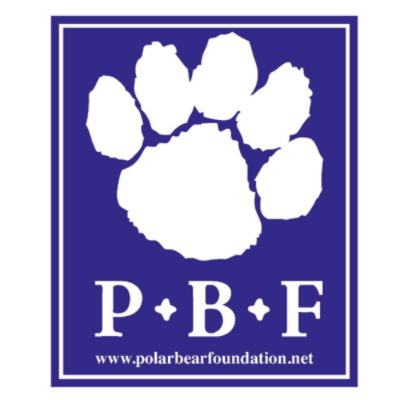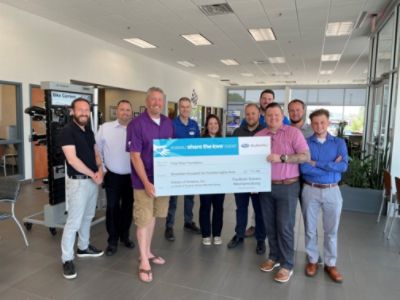 ---
Hospice of Central Pa - Kelly M
Hospice of Central PA provides interdisciplinary end-of-life care to individuals and families who are dealing with advanced illness. The goal of hospice care is to provide comfort and quality of life rather than curative treatment. Hospice care focuses on allowing the patient and their loved ones to remain in familiar surroundings and to live each day as fully as possible, alert and pain free. Care is provided by a team of specially trained nurses, physicians, social workers, nursing assistants and chaplains. Funds raised at events like our annual Golf Classic support our benevolent care fund at HCP which allows us to provide high quality end-of-life care at Carolyn's House and wherever you call home, regardless of economic circumstances. It also provides for complementary therapies such as palliative massage and music therapy, free community bereavement support, and community education. We are proud to have Faulkner Subaru's support of this important event.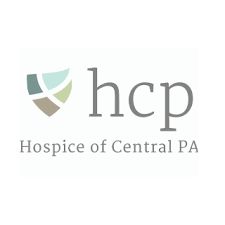 ---
Greystone's Derby Day 2022 - Shane S
Greystone's Derby Day is an annual Kentucky Derby themed charity event helping non-profit organizations in our community. In 2022, the event benefited The Bethesda Mission and Veterans Outreach of PA. The Bethesda Mission is based in Harrisburg and assists the poor and homeless in our local community. Veterans Outreach of PA provides support and services to promote an empowered life for our wonderful veterans. VOPA is building a village of 15 tiny homes, and community center, for veterans of Central PA. With the generous support of Faulkner Subaru of Mechanicsburg, Greystone's Derby Day 2022 raised over $60,000 for these wonderful organizations. Fun fact - VOPA received enough money to build an entire tiny home for one of the veterans! Derby Day is so grateful to Faulkner Subaru of Mechanicsburg for its continued support of this growing and impactful fundraising event.
---
LLS Man of the Year - Jen F
Hi Shane, Thanks again for Faulkner Suburu of Mechanicsburg's generous donation! The event was a success, raising close to $8000 for The Leukemia & Lymphoma Society. Specifically, this event was part of candidate Marcus Josey's Man of the Year Campaign. Marcus was diagnosed with leukemia his junior year of high school; and he has not only beat his cancer, but has recently graduated from Gettysburg College with a degree in Biology and landed his first job in a laboratory conducting cancer research. Marcus's fundraising goal was $50,000--the threshold needed to select a LLS research portfolio and link the name of a loved one to the grant. I am thrilled to share that Marcus raised $53,000 during his 10 week campaign, and he plans to fund the Pediatric research portfolio in honor of a friend he made during his cancer treatment journey. In addition, Marcus won Central PA's Man of the Year campaign! Marcus and I are grateful for the support that Faulkner Subaru of Mechanicsburg provided through the sponsorship of our fundraising event at Polished Salon, Spa, and Wellness. Their support was a major contributor in helping Marcus achieve his goal. Thank you for helping Marcus give the gift of hope by supporting the mission of The Leukemia & Lymphoma Society: to fund cancer research and support blood cancer patients and their families.
---
UPMC Pinnacle Foundation - Matt C
Faulkner Subaru of Mechanicsburg is a leading sponsor of the UPMC Pinnacle Foundation's Leading the Way 2022 Heart and Vascular initiative. On behalf of UPMC Pinnacle Foundation, thank you for your sponsorship for our 1st ever Leading the Way event. We truly enjoyed spending the afternoon with you on April 19th and sharing the developments and updates on the innovative cardiac care practices from leading cardiology experts. Extending another HUGE "thank you" for your support of our inaugural session of Leading the Way, as well as the 4 Minute City in Cumberland County. I have attached a few photos from the evening— we believe it was a wonderful success! Matt Connors Major Gifts Office UPMC Pinnacle Foundation
---
EP Elite Baseball - Brett J
Faulkner Subaru Mechanicsburg was a Platinum Sponsor of the EP Elite Baseball team out of Enola, Pa. Huge Shout out to our friends at Faulkner Subaru of Mechanicsburg. Thank you for your generous platinum sponsorship. It was great to see you all today! Be sure to reach out to them if you're in the market for a new or used car!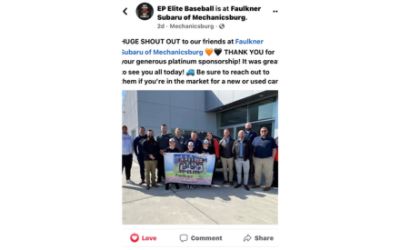 ---
Subaru Loves Earth - Faulkner Subaru M
Employees at Faulkner Subaru Mechanicsburg took time out of their busy schedules and cleaned up Seven Gables Park in Carlisle Pa. They also taught a valuable lesson to a young 5 year old named Cason Smith, the son of Faulkner Subaru Mechanicsburg's new car manager Shane Smith. Cason had a great time cleaning up the park, its walking paths, and learned that it is important for all of us to keep our Earth clean. In only an hour and a half the team was able to fill up almost 10 trash bags and other items.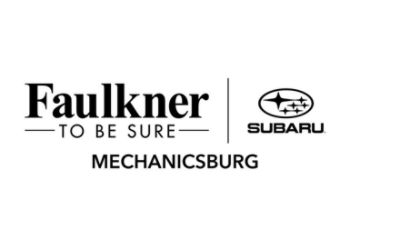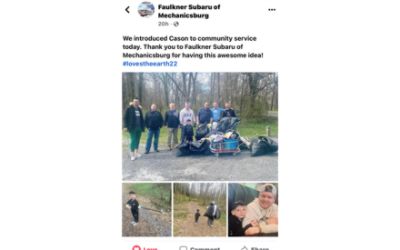 ---