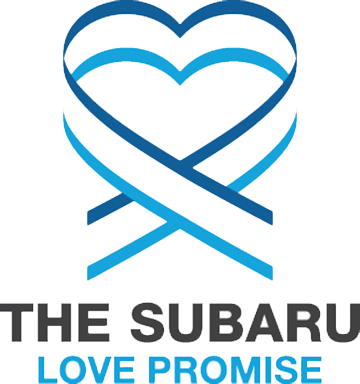 What is the Subaru Love Promise?
Subaru and our retailers believe in making the world a better place and the Subaru Love Promise is our vision of respecting all people. This is our commitment to show love and respect to our customers and to work to make a positive impact in the world.
How is Faulkner Subaru Mechanicsburg dedicated locally to the Love Promise?
Our Love Promise can be seen in various partnerships with local charities and non-profits. We're grateful for the opportunity, not only to be a part of our community, but to serve it as well.
West Shore YMCA, Diakon Youth Services
Harrisburg 5K, Luekemia and Lymphona Society
Love Promise Stories from Faulkner Subaru Mechanicsburg
Subaru and Faulkner Subaru Mechanicsburg believe in making a positive impact on the communities in which we live and work. We uphold that belief through our Love Promise Community Commitment. Every month, we select inspiring stories from customers and partners from around our area who strive to support our collective commitment and feature them here
Trinity Food Drive - Trinity H
Thank you to all that contributed non-perishable items to the Chambersburg Food Bank in cooperation with Faulkner Subaru Mechanicsburg. Trinity is a true asset to the community and help us achieving our goals of helping the community.
---
Summer Program for Youth (SPY) - Jeanna S
Thirty-six years ago, Summer Program for Youth (SPY) was created to help at-risk children in our area grow academically, socially and emotionally over the summer. For eight weeks in June, July and August, families with elementary-aged children in Carlisle Schools have come to rely on SPY to provide their kids with a safe, nurturing environment, sustained nutrition and educational and memorable experiences that other children take for granted. A SPY camper is a student who is struggling academically and would benefit from a stable, nurturing environment and social/emotional learning. Students are referred to SPY by their school counselor and over ninety percent come from low income homes. SPY is offered free of charge so that all children who would benefit from our quality programming are able to attend. Caring and compassionate community members and organizations, like Faulkner Subaru, make SPY possible. Funding from the United Way of Carlisle and Cumberland County covers nearly one third of our operating expenses but beyond this we rely on donations and sponsorships to carry out our mission. Our community needs a program like SPY more than ever this summer. A year of virtual learning has negatively impacted many of our children but particularly those living in adverse home situations with limited access to resources and support. The number of children who would benefit from SPY is growing. Faulkner Subaru's partnership is giving SPY the ability to increase enrollment from 75 to nearly 150 students this summer. This is a substantial growth and will make an impactful difference in our community! On behalf of the Board and Staff of Summer Program for Youth (SPY), I would like to express gratitude to Faulkner Subaru for embracing SPY's mission and offering your support. Your dedication to making a difference will brighten the future for many children who will forever be grateful! With Sincere Thanks! Jeanna SomSPY Executive Director
---
Trinity Field Sign - Larry K
Last night we hosted the April 2021 Faulkner Subaru of Mechanicsburg boys lacrosse event. We hosted Palmyra High School and were fortunate enough to have victorious by a 9-1 score. Attached is the stadium scoreboard electronic billboard that was turned on right as the match began. As you can see, the very first business on the electronic billboard is Faulkner Subaru. I thought you would like to see this. Additionally, we took a picture of the Faulkner Subaru banner that is permanently located along the fence around the field. I will forward that picture to you under a separate email message. Lastly, last night's game was live streamed for those fans who could not attend in person. The Faulkner Subaru advertisement was shared multiple times during the evening. The stadium PA announcer also read the Faulkner Subaru advertisement throughout the night. In closing, we truly appreciate the Faulkner Subaru support of Trinity athletics. We look forward to receiving the April stipend from Faulkner Subaru. I have been working very closely with our Athletic Director in earmarking this month's funds to help pay for needed football helmets and soccer equipment for the upcoming fall season. Without your support, we would be hard pressed to purchase these items four student athletes. Thanks again, Shane & Larry
---
Dillsburg Youth Baseball - Brad B
April 12, 2021 Dear Mr. Smith, Thank you for the opportunity to work with Faulkner Subaru Mechanicsburg in sponsoring our Little League Score Board at our Ryder Field location in Dillsburg. With your generous sponsorship of $4995, this will allow our organization to provide Little League baseball to the youth of our community that is affordable, and also have fields and equipment for those athletes to learn the game of baseball with. Dillsburg Youth Baseball is a charter of Little League International, and we provide the opportunity to learn and play the game of baseball. Boys and girls from the age of 4 years in tee ball to the age of 12 in our Majors Division, work on learning skills and strategies to better themselves both on and off the field. DYB also offers a Challengers Division for athletes with physical and/or mental disabilities. Lastly, DYB also has a Junior and Senior Teener Divisions that offers baseball to athletes after they have aged out of the Little League age. These Divisions have athletes enrolled up to the age of 18. As you can see, your sponsorship will greatly affect many lives in the years to come at Dillsburg Youth Baseball. Thank you for your support and we hope to see you all out at a game soon! Play Ball! Brad Beck President Dillsburg Youth Baseball
---
2021 Easter Ham Donation - Marietta U
It was so nice meeting the Subaru team this morning. Subaru as a company has been so generous to us during the pandemic and I'm so happy that a local team wanted to do even more to help us out. It was very generous of the staff to donate all of the hams. Multiple local families will be benefitting this holiday weekend from your generosity. I attached a donation sheet that converts the total pounds donated into meals. I also included a link to our website that focuses on what we do at the food bank along with how many we people serve. Our service territory is the 27 counties in the middle of the state. Please let me know if you need any additional information. https://www.centralpafoodbank.org/who-we-are/ Thank you again and have a wonderful Easter if you celebrate 😊
---
Central Pennsylvania Animal Alliance - Zella S
Dear Friends at Subaru, The Central Pennsylvania Animal Alliance (CPAA) has been fortunate to partner with Faulkner Subaru, Mechanicsburg to raise awareness, supplies, and funds for CPAA's life-saving Hounds of Prison Education (HOPE) training and rehabilitation program for rescued and shelter dogs. HOPE pairs rescued and shelter dogs with carefully-selected inmates at the State Correctional Institution at Camp Hill for training and rehabilitation, with the assistance of professional trainers and HOPE volunteers. Some of the dogs that participate in HOPE need basic obedience training, while others have fears and challenges they need help to overcome as a result of the abuse and neglect they have suffered at the hands of humans. HOPE is the perfect program to make that happen. The dogs live with their inmate handlers 24 hours a day, seven days a week, and the inmates are responsible for the total care and training of the dogs. When the dogs' training is complete, they are adopted into forever homes. Each HOPE graduate comes with free training support for life with one of CPAA's professional trainers. HOPE is a win for the dogs, who otherwise would not have had a chance at life, and a win for the inmates too. At CPAA's Compassion with Fashion event last year, the guest speakers were two former participants in HOPE, who told how the dogs that they trained over the years rescued and redeemed them. We outwardly see the amazing impact of HOPE on man's best friend, but it was especially poignant to hear the heartfelt stories from the men who trained the dogs. HOPE provides rescue, redemption, love, and hope to man…and man's best friend! The work of CPAA is accomplished through the generosity of businesses like Faulkner Subaru, Mechanicsburg. For that, we are more grateful than we can easily say. With heartfelt thanks and great appreciation, Zella Smith Anderson, Esq. Founder & Executive Director
---
Trinity High School - Rachel M
First and foremost, a huge thanks to Faulkner Subaru Mechanicsburg for your continued support of Trinity High School! We are honored to partner with you all and more than willing to provide our support in helping Faulkner in their efforts of securing the Love Promise Community Commitment Award. All the best and we will be cheering Faulkner on! Rachel
---
Sam's Spoons - Carrie P
Sam's Spoons Foundation for Lyme Support & Education is focused on helping those in need financially, while working with other groups to raise awareness, provide educational outreach efforts for youth and their families, instill the importance of prevention, and push important policies around tick bites and Lyme/tick-borne diseases in Pennsylvania. Faulkner Subaru was instrumental in helping us in two major ways. Through "Share the Love" we secured enough funding to award 13 financial assistance grants, ranging from $500 to $1,500 per person. In addition, we were able to provide permethrin treated socks to 800 fifth grade students as part of our Sockit2Lyme educational campaign. On behalf of our organization, the 13 Lyme Warrior grantees and the 800 students (and families), thank you for your generosity and commitment to community outreach! Thank you for sharing the love💚
---
A Pandemic Can't Stop The Love - Jennifer K
The Central Pennsylvania Food Bank has seen an outpouring of support from the community that has been incredible. Thousands of generous individuals and companies have helped to Give Hope Now, but our work is far from over. The Food Bank has seen demand for food assistance increase more than 40% in the past year and expects demand to remain at these high levels for the next two years. With a "strong front" to combat hunger, the Food Bank and its more than 1,000 partner agencies and programs provided over 50 million meals this past year. But community support is what gets the job done - volunteering, donating and raising awareness all contribute to addressing food insecurity across Pennsylvania. Thank you Faulkner Subaru Mechanicsburg for your generous donation of 173,162 meals to the Central Pennsylvania Food Bank. Together, we can end hunger. https://www.centralpafoodbank.org/
---
Spreading some "Cheer" to East Pennsboro schools - Joey T
On behalf of the cheerleaders of East Pennsboro High School, I would like to thank you for your very generous sponsorship of our team for this season! We have received the team t-shirts and love them! The cheerleaders truly appreciate the generosity, especially during this time. I have enclosed some pictures that were taken of the cheerleaders wearing the sponsorship t-shirts. We will be wearing the t-shirts for special team events in support of school spirit! Thank you once more for your generous sponsorship this season. Your support is not something we take lightly and is very much appreciated by all the cheerleaders and coaches at East Pennsboro High School. With Kind Regards, Joey Thalassinos East Pennsboro High School Varsity Cheerleading Coach
---
Central PA Food Bank and Subaru Loves to Help - Jen K
Thank you so much for your support of the Central Pennsylvania Food Bank through the Subaru Loves to Help campaign. Your generous contribution means that FOOD BANK can stay nimble and be there for our neighbors in their moment of need— whether they are asking for help for the first time in their lives, or struggling with perpetual food insecurity that made it difficult to fill their plates even before this crisis hit. We are truly grateful for your support. We would love to explore additional ways to partner with you in the future. One of those ways is by volunteering to help pack our Crisis Response Boxes. We have experienced a 47% increase in need over the last 4 months due to the COVID-19 pandemic. Thanks to the help of our wonderful volunteers, we are packing 3,500 boxes a day. Volunteers help us distribute these much life-saving boxes to food insecure individuals and families in our 27 county region. Our packing site has moved to the Farm Show in Harrisburg to accommodate the increase in need and implement a social distancing protocols. We are currently in need of volunteer groups to help pack the boxes. Additional information can be found on our website at https://www.centralpafoodbank.org/covid-19/. -Jen K
---
Why We Deliver Blankets in July - Valerie S
In Mechanicsburg, PA, we are currently in the middle of a summer heat wave but we delivered blankets to Andrews and Patel Hematology/Oncology office. Cindy and Danielle with Faulkner Subaru Mechanicsburg, took time out of their day to meet us to deliver the blankets, craft kits and cards of hope. The waiting area in the office was full with patients and their families. With the hustle and bustle that summer months often bring, we just want to say a great big Thank YOU to everyone at Faulkner Subaru including the customers who spent a moment filling out a card of hope. It really helps to brighten a patient's day when they receive a blanket and the cards certainly carry more hope than you can probably imagine to someone who is undergoing cancer treatment. Leukemia and Lymphoma Society's Central PA chapter was grateful to once again be apart in another meaningful Subaru Loves to Care program.
---
Faulkner Subaru Mechanicsburg Shares the Love 2018 - Paula C
Dear Subaru, I would like to start by saying that when we were told we had been chosen for the Share the Love Event, we were surprised and honored. We thought, "This is great! We'll receive maybe $10,000.00 and we can do great things with that amount." Needless to say, when the letter arrived stating we were to receive over $40,000.00, it was definitely a HOLY CRAP moment! Amazed, thrilled, excited, dumbfounded, surprised… these are just some of the emotions that we felt! Me being the dreamer that I begin thinking of all the boundless things we could do for the rescue. First I was opening a spay/neuter clinic. But I realized I needed to start smaller. I thought we could add a maternity ward and/or a sick room. A small animal room/building. I need to start smaller still! So we are improving and expanding on what we already have started. Our new kennel will be opening very soon with this plentiful donation! We will be able to take in more animals in need and provide even better care while they stay with us. This donation will pay our vet bill for a year or keep us running for another year! The possibilities are endless. In short, the most important thing that this donation will do is help many unwanted and abandoned pets while they are with PCoAR, waiting for their new, loving families to find them. This donation will help us provide the best care and make it easier to love and help them. "Share the Love" says it all. We thank you for this incredible donation. From the tips of our tails to the ends of our noses, we thank you! Lots of furry hugs and sloppy kisses! From our rescue family to all of you, you are amazing and "thank you" just doesn't seem to cover our gratitude! You are all now a part of our rescue family! Sincerely, Paula Current Director Perry County Animal Rescue
---
Fighting against Lyme disease in Central PA. - CINDY L
On January 16th, 2019 Faulkner Subaru was honored to host the Launch party for The Sam's Spoons Foundation and to make a donation to help educate local 5th graders about the prevention of Lyme disease. The cost of Lyme Disease can be staggering. According to Dr. Daniel Cameron, the mean cost for patients was $16,199 annually with early Lyme disease. Sam's Spoons Foundation was created in 2018 to help defray the out of pocket expenses incurred by families affected by chronic medical conditions from Lyme disease and co-infections. Post Treatment Chronic Lyme Disease is not only difficult to manage, but it means that people are left 100% financially responsible for their treatment. This nonprofit organization is focused on helping those in need financially while working with other nonprofit organizations to raise awareness, provide educational outreach efforts for youth and their families, instill the importance of prevention, and push important policies around tick bites and Lyme disease in Pennsylvania. Curious to know why "Spoons"? The spoon theory is a metaphor used to explain the lack of energy a person has to complete a simple daily task (like showering or household duties or making a meal) due to chronic illness/disease like Lyme and contributing illnesses.
---
PA Bass Federation reaches kids through Fishing - Barry P
Faulkner Subaru in Mechanicsburg partnered with the PA Bass Federation at an event that was held at the Great American Outdoors Show Feb. 2nd-10th, 2019 in Harrisburg, PA. Every kid learned to "flip, pitch, and cast" a fishing rod. After learning these skills they participated in a friendly competition to see who would score the highest in the 3 categories. Every child received a rod and reel, a T-shirt, and lures among other things. Over 800 kids learned to appreciate the finer points of fishing during this event! Barry Potteiger says, the focus is to get kids involved in healthy outdoor activities like fishing rather than getting into trouble or getting involved with drugs. This event was completely free to the kids who participated.
---
Harrison's PJs for Pediatrics - Helen and Harrison F
Faulkner Subaru in Harrisburg is collecting new pajamas again this year in infant to adult sizes to be delivered to Penn State Hershey Children's Hospital. Sometimes the real superhero's live in the hearts of small children fighting big battles! On April 19, 2017, after a well-baby visit Harrison a 16-month-old twin boy was sent to Penn State Children's Hospital for further testing. On April 20th it was confirmed that Harrison had Wilm's Tumor and would have to undergo a radical nephrectomy and subsequent chemotherapy. After recovering from his surgery he began chemotherapy at the beginning of May. We as a family completely understood the risks and benefits of treatment; loss of hair, lacking appetite, neuropathy, jaw pain, possible blood transfusions, and most importantly remission. We had made it through 6 weeks without a transfusion and finally on week 7 Harrison received his first transfusion of red blood cells. On week 8 he received platelets. Later in the day on the 20th of June Harrison was admitted to the Pediatric Intensive Care Unit at Hershey with VOD, a side effect of the chemo that inhibits the blood flow to the liver. Harrison had to place on a ventilator, countless medications and underwent significant testing while the doctors were able to work out a plan. On June 29th Harrison was Life flighted to Children's Hospital of Pittsburgh where it was decided we should be transferred to for a possible liver transplant. He was finally released Pediatric Intensive Care Unit at Children's of Pittsburgh in mid-August. By the end of August Harrison was transported back to Hershey to continue to heal and was discharged home September 29th. Over the past year, Harrison has continued to amaze all who treat him and love him. He is no longer on any medications and in the past year, his kidney function has continued to improve. Last year at this time he was at 50% kidney function and now he is in the low 90%. He is a normal toddler. He was able to attend pre-school this fall, he is singing and running like all the other kiddos. I attribute his ability to adapt and overcome obstacles to his twin Hudson. They push each other daily. Harrison has overcome so much in his short life and he continues to advance leaps and bounds. Harrison only sees his oncologist every six months now and all his other specialists have been moved to annually or semi-annually. He is currently on no medications! For those of you who are unfamiliar with why I chose pajamas to donate to the medical center in my son's name here is why. As soon as Harrison was removed from the ventilator the first thing after holding him I did was put him in pajamas. My son was well enough to put pajamas on! However, we could possibly go through 5 or 6 Pajama changes in a day. Had it not been for the donations of pajamas Harrison wouldn't have had pajamas to bridge the gap. We are extremely thankful for the donations last year and are hoping to give more to the children this year. Harrison is counting on you! Thank you in advance for your support! ~Helen Fischman
---
Faulkner Subaru of Mechanicsburg Shares the Love - Victoria B
The Leukemia & Lymphoma Society's (LLS) Central PA Chapter was proud to partner with Faulkner Subaru of Mechanicsburg in June during Subaru Loves to Care month to provide support to patients fighting cancer. Faulkner Subaru of Mechanicsburg staff delivered the beautiful blankets and kids craft kits to Andrews Patel Hematology/Oncology. Thank you, Faulkner Subaru of Mechanicsburg, for bringing warmth, love and hope to patients in our communities through Subaru Loves to Care!
---
Faulkner Subaru Shares the Love to Cancer Patients - Tara R
The Leukemia & Lymphoma Society's (LLS) Central PA Chapter was proud to partner with Faulkner Subaru of Mechanicsburg in June during Subaru Loves to Care month to provide support to patients fighting cancer. Faulkner Subaru of Mechanicsburg staff delivered the beautiful blankets and kids craft kits to Andrews & Patel Associates. Thank you to Faulkner Subaru of Mechanicsburg for showing their local cancer patients that they are here to provide warmth and support!
---
Subaru and NWF Loves the Earth - Gina M
The students at the Palmyra Area Middle School were very excited to partner with Subaru and the National Wildlife Federation and to enhance our recently created native garden to create habitat for pollinators. Thank you!
---
Palmyra Middle School Loves the Earth - Gina M
My name is Gina Mason, and I am the environmental science teacher at Palmyra Area Middle School. My class has learned that sustaining the environment is critical not only in the present, but also for the future. They have become very passionate about cleaning up and preserving our environment. The students are very knowledgeable about environmental concerns and frequently go out in the community to help. One day they came up with the idea of building a garden at the school, so that they would be able to maintain and observe wildlife. Shortly thereafter, we were contacted by Faulkner Subaru of Mechanicsburg about their willingness to support our native garden through Subaru's partnership with the National Wildlife Federation's Certified Wildlife Habitat initiative. They provided us with a wide variety of plants as well as the final few items we needed to make it spectacular! This included different wildlife housing, seeds, soil, and feeders which are all basic elements wildlife needs to survive. On May 30th, their sales manager Chris Carvell was able to stop by to meet the students and see what they were able to create from their Subaru Loves the Earth donations. Thank you to Subaru and Faulkner Subaru of Mechanicsburg for their generosity. We look forward to partnering together in future projects!
---
Pedaling Across America for Affordable Housing - Hunter W
As the youngest of 3 boys, I grew up watching my oldest brother diagnosed at 27 with Autism struggle in many aspects of life and finding affordable housing. It's no surprise that I grew passionate about finding a way to help! My uncle told me about a non-profit organization called Bike & Build. The mission is to spread awareness on affordable housing, and build houses for those in need. Bike & Build riders travel across the U.S. on road bikes, averaging 70 miles a day while making hundreds of stops along the way to build and restore homes. This organization is grassroots at its finest. They believe having a place to call home is a necessity, not a privilege. Those who are helped pay rent in any way they can afford. The more I learned, the more I grew intrigued to become part of it. Each rider is required to raise $5,000 for building supplies. I never raised money before and that much is tough! My mom recently purchased a Subaru from Faulkner Subaru Mechanicsburg and noticed how involved they are to pay it forward to the community. We took a leap and asked GM Doug Jones if he would be interested in helping. I was so happy when he said yes! I had no idea when he handed me the BIG check that it was going to be for the exact amount I needed to hit the goal! I am beyond thankful for their support and excited to start the 4 month 4,000 mile journey from New Hampshire to Washington State on June 14th.
---
Healing the Invisible wounds of Military Conflict - Sam S
Veterans experience things most cannot fathom. Although coming home is a wonderful feeling, coping with life after combat and managing Post Traumatic Stress Disorder can be very difficult. On December 6th 2012 our non-profit organization Dog T.A.G.S. was founded. Dog T.A.G.S. stands for Train Assist Guide and Serve. Our organization runs solely off of volunteers and donations and every penny raised goes directly to the cause. Our mission is to train our Veteran's personal dogs in obedience, public access, and tasks the dog will perform to meet the Veteran's personal needs. This allows them to become certified service dogs. If we have a Veteran who does not have a personal dog we work closely with them to find one who is a perfect match. All of this is provided to the Veteran at ZERO cost. We've seen in several cases that the work we do does and is saving lives. As a non-profit, it can be challenging to raise the funds to be able to keep our doors open providing the training and support the Veterans who fought for our freedom need and deserve. We are truly blessed for Faulkner Subaru Mechanicsburg's partnership. Doug Jones and his amazing staff not only gave a donation, they have opened their venue for fundraisers, gotten us the exposure we desperately needed on Radio & TV as well as offered web presences guidance. We are forever thankful that Faulkner Subaru Mechanicsburg reached out to us they are 100% dedicated to paying it forward and making a difference in our community.
---
Fighting Childhood Hunger One Heart at a time - Christine D
In the fall of 2015 I took a leap of faith to create a weekly weekend food assistance program for upwards of 600 students who face food insecurity in Hershey, PA. It was hard for many to believe that in the sweetest place on earth there are 1 in 5 students who go to bed hungry. Food and nutrition play such an important role in developing the body and mind I had to do something to help! COCOA PACKS Inc started distributing weekend packs of food in November of 2015 and is committed to giving every student the opportunity to be the best possible learner and global citizen. It is our hope that the love our organization shares will one day help our recipients to share that same love to others. Their generous donation helps us to be financially sustainable to reach more students. Faulkner Subaru's message of hope at our 1st Heart 4 Hunger Fundraiser, promotion of our organization through various communications and social media outlets broadened our ability to have others understand our mission inspired others. These alone are FABULOUS but what hit it out of the park for us was the incredible hearts of the staff at Faulkner Subaru who took the time to actually come to our sight and roll up their sleeves to help pack the COCOA PACK bags! This shows the genuine heart of their company. They did not make us feel like just another organization they support instead we feel like FAMILY working together for a common goal to love each other without judgment. #lovewins
---
Making my Dream a Reality - Brittany S
Graceful Acres is a non-profit organization offering therapeutic horseback riding where our main focus is to empower and better the lives of both children and adults facing various developmental, physical, or emotional challenges. For many years founder Jon Mattis dreamed of opening up a riding facility where children with special needs could benefit from therapeutic riding, gaining self-assurance and learning how to care for other living things. In June of 2012 Jon took the leap of faith and opened Graceful Acres on his grandparent's farm. Our name Graceful Acres is in honor of the founders' loving grandmother Grace, who was very passionate about bettering the lives and well-being of children. Through sponsorships and an amazing team of 50 volunteers we have grown vastly and continue to grow today! Since Faulkner Subaru Mechanicsburg began sponsoring us in 2015, we have increased our number of riders and broadened the spectrum of those we are able to offer lessons to. We currently have 43 riders ranging from ages 4 to 93 with 10 therapy horses and are averaging 100 riding lessons per month! "Without you and our volunteers none of this would be possible. It is truly a blessing to see my dream come true and to be rewarded with something that money can't buy which are the laughs, smiles, and success stories of our riders! Thank you to Faulkner Subaru Mechanicsburg for your ongoing support and involvement, together we are making a difference in the community!"- Jon
---
Silver Spring Township's New K-9 "Tracker" - Brittany S
In May of 2016 Faulkner Subaru Mechanicsburg presented the Silver Spring Township Police Department with a check for $7,500 towards a new K-9. "Our Department is extremely thankful for Faulkner Subaru Mechanicsburg and their donation. Without your help we would not have been able to get Tracker as quickly as we did." - Officer David Frascella
---
My First Subaru - Donna A
I knew it was time to purchase a new vehicle, but I was indecisive. My 2002 Ford Escape had served me well during the past 14 years and I considered myself a Ford person. The Ford lineup has changed their style and it no longer matched my style. My son and daughter-in-law suggested that I look at a Subaru. They just love their Subaru! I visited a local dealership, but they weren't the right fit for me. I decided to give Subaru one more try so I visited Faulkner Subaru Mechanicsburg where I met Danielle, Sales Consultant, and Chris, New Car Sales Manager. What a difference! Danielle and Chris were patient, kind, and willing to work with me to ensure that my next car was the perfect match for me. I thought I wanted a Crosstrek, but after test driving a Forester I was unsure. I couldn't make a decision. Danielle and Chris suggested that I take both vehicles overnight to help me with my decision. Wow! I've never had a dealership that offered an overnight test drive. Their level of commitment impressed me. I am thankful that I had the time needed to make the best decision for me. I am so happy with my red 2017 Forester!! I truly appreciate their time and effort. Danielle and Chris have changed my mind about Subaru. I recommend Faulkner Subaru Mechanicsburg! Thank you Danielle and Chris!
---
Bringing Light and Hope to Cancer Patients - Laura M
Faulkner Subaru of Mechanicsburg is partnering with the Leukemia & Lymphoma Society (LLS) of central Pennsylvania to support blood cancer patients all over the world. Together, we are partnering to shine bright and inspire hope through our local Light the Night Walk in Harrisburg, Pennsylvania. Over 250 night lights were created to spread hope to blood cancer patients. When patients turn on these night lights, they will feel the warmth of millions of supporters. LLS and Faulkner Subaru are shining light on the darkness of cancer through research, education and patient support. We thank Faulkner Subaru of Mechanicsburg for the love and support that they have shown LLS.
---
Amelia S Givin Library Summer Reading Program - Brittany S
Learning is a key aspect of Subaru's Love Promise. That is why at Faulkner Subaru of Mechanicsburg we were privileged to have the opportunity of being the Blue Ribbon sponsor for the Summer Reading Program at Amelia Givin Library in Mount Holly Springs. This program is designed to give over 650 local children and their families the opportunity to participate in a total of 17 fun and educational events held over the summer months of June and July. The Summer Reading Program encourages the youth to continue reading and learning throughout the summer while school is out of session. Each participant keeps track of books they read during the program. As the Blue Ribbon sponsor, our contribution of $4,900 helped the library enhance the quality of programs offered and offset many of the expenses. During the kickoff party we brought a Crosstrek and Forester for the kids to decorate with paint. We also provided prizes and gift bags for the program's participants. We are proud to be partnered with this program that drives the younger generation to read and expand their knowledge, and will be involved for many years to come.
---
Letort Nature Trail - Emily G
Faulkner Subaru Mechanicsburg is committed to preserving and protecting the environment. We are proud to be a sponsor of the Letort Nature Trail. Our donation of $4,800 has helped expand community awareness of the 2 mile long trail by producing new maps as well as funding for map stands along the trail.
---
Silver Spring Township Police - Emily G
Faulkner Subaru of Mechanicsburg we are proud to be a part of the Silver Spring Township Police Department's fundraising efforts. We heard they were looking to raise money to add another K-9 Police Dog to the force and we were eager to help! Faulkner Subaru of Mechanicsburg is located in Silver Spring Township and it is always an honor to help our local community. We donated $7,500 in efforts to help them reach their goal of $20,000 to add the newest member to the force. Their current K-9 Bruder has overcome many obstacles including cancer in the 7 years he has been on the force. On average, K-9's only are able to serve about 10 years. As dog lovers ourselves, we are so happy we were able to help and are excited to meet this new pup. You can view the official check presentation video on our Facebook https://www.facebook.com/Faulkner-Subaru-of-Mechanicsburg-1483574435241109/ . Show your support by either donating to or simply sharing the Silver Spring Township Police Department K-9 Unit GoFundMe Page to help spread the word and get the Silver Spring Township Police Department to their $20,000 goal!
---
Subaru Loves Learning Book Drive August 1 - 31 - Danielle S
Join us in our Subaru Loves Learning initiative during the month of August! We are partnering with the American Association for the Advancement of Science (AAAS) in donating science books to the Harrisburg School District. All of the books that will be donated have been recognized by AAAS as some of the best science books in their field. Contact us to learn more information.
---
Subaru Loves the Earth - E-Waste Event - Danielle S
We would like to thank our customers for participating in our E Waste Recycling event during the month of April. With your help, we were able to prevent 17,889 lbs of carbon emissions from polluting the atmosphere. This is equivalent to saving 685 trees, 3,042 gallons of gasoline, 25,933 plastic bottles, and 119,287 aluminum cans. Thank you for helping strengthen the Subaru Love Promise!
---
Share the Love - Abigail C
During the Subaru Share the Love event both the Faulkner Harrisburg and Mechanicsburg locations raised $27078 towards the efforts to cure Blood Cancers. The mission of The Leukemia & Lymphoma Society (LLS) is: Cure leukemia, lymphoma, Hodgkin's disease and myeloma, and improve the quality of life of patients and their families. With the help of Faulkner and so many others we will find a cure.
---
April 1-30, 2015 - E-Waste Recycling Event - Molly M
Throughout the month of April, we are hosting an E-Waste Recycling Event in our store to collect unwanted electronics. We've arranged to work with a company who will responsibly collect, re-purpose, and recycle your electronic waste. Help us protect our environment. Just show up with your E-Waste and we'll do the rest! The first 50 customers who contribute will receive a complementary environmental badge of ownership. We will accept: LCD Monitors, Cell Phones, Laptops, Tablets, CRTs up to 40 inches, Video Games/Consoles, Fax Machines, DVD/VCR Players, Printers, Computer Peripherals, Switches/Routers, Cords and Wires.
---
We Support Diakon Youth Services - Garrett H
Faulkner Subaru of Mechanicsburg has helped support Diakon Youth Services for the past 3 years. Diakon Youth Services helps transform the lives of at-risk youths since the 1970s through a range of community based treatment, vocational training, counseling, and mentoring services. Faulkner Subaru Mechanicsburg donates money to Diakon in order to help maintain the program. They sponser their 5k run which help provide supplies including, food, shirts, drinks, and prizes. Faulkner Subaru Mechanicsburg also donated a vehicle for their vocational training. Their automotive program allows the youth to better learn the systems of vehicles. They also have the youth come to the stores service department throughout the year and work along side of the technicians. This allows the youth to have a real world understanding of how the service department operates.
---
Faulkner Mechanicsburg supports Carlisle YMCA - Garrett H
Faulkner Subaru Mechanicsburg has worked with the Carlisle Family YMCA supporting the Carlisle area Youth Soccer program. The youth Soccer program is an 8 week program in both the spring and the fall. Their support helps fund the program. In turn this allows the YMCA to cover expenses that the registration fees may not cover. This helps keep the cost low so that youth can join the program. Between the Spring and Fall programs, this helps support roughly 700 kids. Their contribution also helps support the YMCA Summer Day Camps. Their Day Camps run for 10 weeks throughout the Summer. Between the Youth Adventure Day Camp, and their New Frontier offsite camp, there are over 100 campers daily. The YADC and New Frontier camp allows youth to be active, learn, and build relationships throughout the summer while in a safe and friendly environment.
---